21-year-old singer-songwriter Sky Ferreira released her full-length debut studio album Night Time, My Time today, October 29, and it cracked the Top 10 Albums on iTunes less than a couple of hours since it's midnight release. Sky stayed true to herself with this album by melding 80s-inspired pop with an edge of rock. Her single off of the new album titled 24 Hours is iTunes Single of the Week, so if I were you I'd download that baby right now! My current favorites are Nobody Asked Me (If I Was Okay) and Heavy Metal Heart.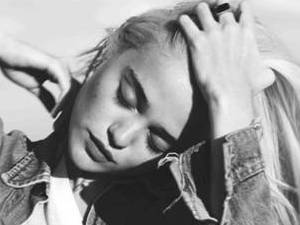 Signed to Capitol Records, Sky has a couple of EPs under her belt. Her first EP titled As If! released in March of 2011. In 2012, Sky released her second EP Ghost. It's remarkable to see that she's been in the music business since she was 15, and see how far she's come today. All the while taking up modeling and acting gigs on top of that. I've been a fan since her single Obsession was featured in an episode of The Vampire Diaries in 2010. After that, I was hooked and girl-crushing hard.
Night Time, My Time is overflowing with raw soul and a very sassy Sky attitude to seal the deal. The quality of how impeccably great the album turned out is surreal. The premise of the music Sky and her team produces utilizing synthesizers, electro-pop material, and her voice that embodies the classic 80s theme vibe. What better way to keep the particular era of the greatest music alive. I know I've pointed that out a lot, but I don't care. There is so much honesty, authenticity and authority in her soulful voice and lyrics that we all can relate to, and it's easy to completely immerse yourself in it, heart and soul. I am thoroughly impressed and proud of how far she's come, and how far she's pushing boundaries to no end. Sky is a real first world anarchist, which shows in how she is in control of her own life and music.
With that being said, I just wanted to wish a happy release day to Night Time, My Time which is out now! So, go buy it on iTunes, in stores, online, somewhere -- I promise it won't disappoint. It'll soon be in heavy rotation all week. Go ahead and give it a listen, and tell me what are your favorite tracks off of the album!